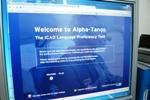 The first section is executed using a computer-based, interactive system. The aim of the test is to determine the canditates ability interact colloquially in English by describing pictures or answering questions. During the first section, the test candidate's statements are digitally recorded. The assessment must then be carried out by the LPE, who assesses the entire exam.
Expect the following topics to be adressed in the interview:
your qualification
your (favorite or training) aircraft
description of a flight briefing (preparation, weather, checks, navigation log)
non-routine situations (own stories or stories you've heard about
emergency messages (in general and example)
The test may be taken by authorized examiners who strictly follow to a prescribed procedure. Examiners are especially qualified to take LP tests. Attention: Not every LPE Examiner is authorized to certify all language levels!
A confirmation by a Language Proficiency Linguistic Expert - (LPLE) is required at ALL levels.
The LP test is divided into two parts: A computer-based test and a personal interview. Both parts are evaluated according to a given procedure. Note: The services offered here can only be provided for licenses issued in Austria!